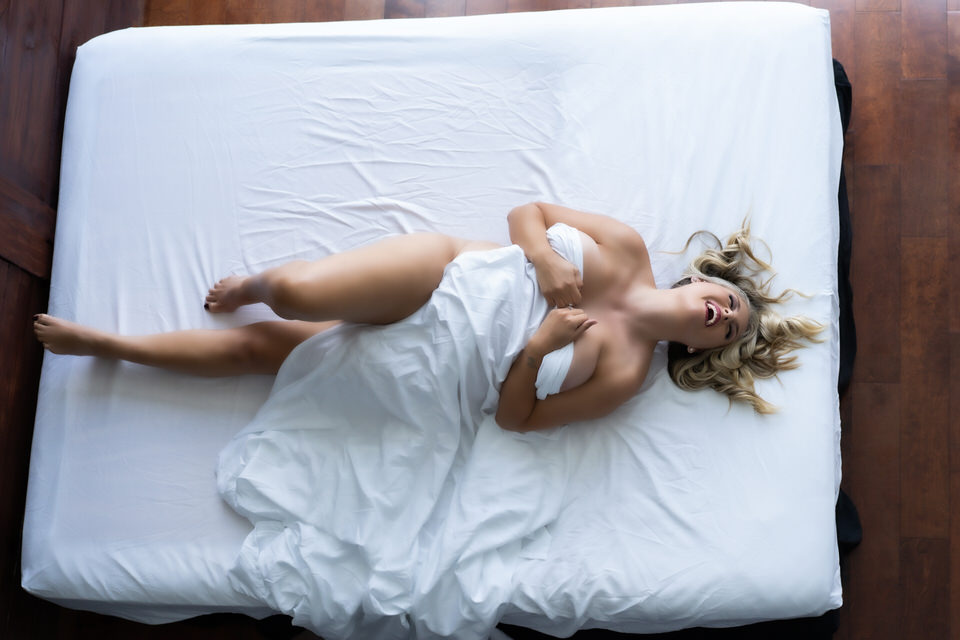 Want to know what empowered feels like? Try boudoir! Many people think that boudoir photography is only for models, but the truth is that it can be empowering for everyday women too! 
Boudoir photography allows you to step outside of your comfort zone and try something new. It may seem strange or uncomfortable, but once you see your photos, you'll fall in love with yourself all over again! Our staff is here to guide you through the entire process from hair and makeup done by our licensed professionals to assisting with choosing the right artwork for your images to shine in your home! All you have to do is show up and be ready for the most incredible confidence booster of your life! 
Boudoir photography empowers women through images that capture natural confidence and beauty. 
When you see photos from a boudoir session on Instagram or Facebook, you may think that these are women with certain traits typically associated with modeling-such as beautiful, confident, or professional. But that is simply not the case. Of course, all of our clients are absolutely stunning but each one is uniquely different from their body type to their back story. Whether you're a size five or a size twenty-five, you are beautiful and should see it through your own eyes! I specialize strictly in boudoir photography and work with women of all sizes and I can pose you from head to toe to get every inch of beauty from you!  We should all feel comfortable in our own skin, and boudoir photography can help us do just that—show us who we are outside of our everyday life.
Boudoir photography is all about seeing yourself from a different perspective and finding power and strength in who you are. 
Boudoir photography allows us to see ourselves from a new angle and provides an opportunity to feel empowered by your own beauty rather than fear it. We all have a backstory or a "why i am doing a session" story. My first boudoir session, I was trying to boost my confidence after the kids left the nest. Getting back into the groove of things was tough to say the least. This empowering session not only boosted my confidence, but also the look on my husband's face was priceless!  Seeing through my lens how others have overcome challenges and learned to love themselves has been a game changer for me when it came to believing in myself and my abilities. What we see as women in the mirror is not what the world sees, and it's my mission to make you see what everyone else sees and let that beauty shine!  I hope that comes through in some of my photos!
A boudoir photo session can help you step outside of your comfort zone and allow you to see how gorgeous you really are.
Anyone that's ever seen a boudoir photo shoot knows just how fun and flirty these photos can be. But did you know they can also help you feel more confident and comfortable in your own skin? It can be nerve wracking showing up to a place you have never been with people you have never met but rest assured!! Our team will make you feel right at home to let your inner beauty shine through and hype you up along the way! Not only will you find yourself looking back on these images with pride, but you'll also begin to notice the beauty around you. A boudoir session is self-empowering and confidence boosting, and in a world telling us to be "normal" every woman could benefit from feeling beautiful!